IMPRESSIVE SHADE SAILS
Melbourne | Sydney | Brisbane
FREE QUOTE

IMPRESSIVE SHADE SAILS
Melbourne | Sydney | Brisbane
FREE QUOTE

IMPRESSIVE SHADE SAILS
Melbourne | Sydney | Brisbane
FREE QUOTE

IMPRESSIVE SHADE SAILS
Melbourne | Sydney | Brisbane
FREE QUOTE

IMPRESSIVE SHADE SAILS
Melbourne | Sydney | Brisbane
FREE QUOTE

IMPRESSIVE SHADE SAILS
Melbourne | Sydney | Brisbane
FREE QUOTE

IMPRESSIVE SHADE SAILS
Melbourne | Sydney | Brisbane
FREE QUOTE

IMPRESSIVE SHADE SAILS
Melbourne | Sydney | Brisbane
FREE QUOTE

IMPRESSIVE SHADE SAILS
Melbourne | Sydney | Brisbane
FREE QUOTE
IMPRESSIVE SHADE SAILS
Melbourne | Sydney | Brisbane
FREE QUOTE


IMPRESSIVE SHADE SAILS
Melbourne | Sydney | Brisbane
FREE QUOTE

IMPRESSIVE SHADE SAILS
Melbourne | Sydney | Brisbane
FREE QUOTE

IMPRESSIVE SHADE SAILS
Melbourne | Sydney | Brisbane
FREE QUOTE

IMPRESSIVE SHADE SAILS
Melbourne | Sydney | Brisbane
FREE QUOTE

IMPRESSIVE SHADE SAILS
Melbourne | Sydney | Brisbane
FREE QUOTE

IMPRESSIVE SHADE SAILS
Melbourne | Sydney | Brisbane
FREE QUOTE
Shade Sails for Schools, Childcare Centres, Car Parks and Residential
The leaders in the industry for Shade Sails that work for you
The Sail looks so good. Very impressed with the workmanship.
Thanks for that. Michelle and I are very happy. The sail looks great and you did everything very professionally and in the time-frame promised which is very much appreciated.
I wouild like to acknowledge your work in providing our school with a shade sail.Your effeciency, fast turn around from quote to installation was fantastic. Your professional service and the men who did the installation were very polite and helpful. Thank you for a wonderful job our shade sail looks amazing.
Brilliant product, matched up with even more brilliant service.
Thank you and your team from such a professional job from start to finish I will finalise invoice tomorrow morning.
Thanks so much ... – I hadn't realised you were here and then one of the other guys told me – we were watching from upstairs and we are very happy with it – big improvement. Huge thank you for the great job and for being so fast at getting back to us and getting it installed.
We love the outcome, thank you very much for your time and patience in completing our job.
Thank you for the installation on the shade cover for the children playground at St Paul's Church. It looks magnificent & will be much appreciated by all users.
The Sail looks great. So much appreciated with your installer's workmanship and professionalism.
CHILDCARES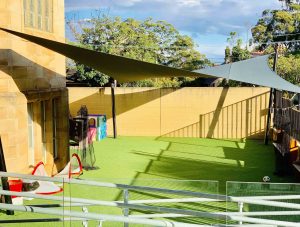 We also specialise in Shade Sails and Shade Structures for Childcare's across NSW, VIC, and QLD.
We are fully licensed, insured, CM3 certified and are a preferred supplier for the NSW Dept of Education.
All our staff have Working With Children checks and we can install after hours if needed at no additional cost.
RESIDENTIAL
COMMERCIAL
SCHOOLS